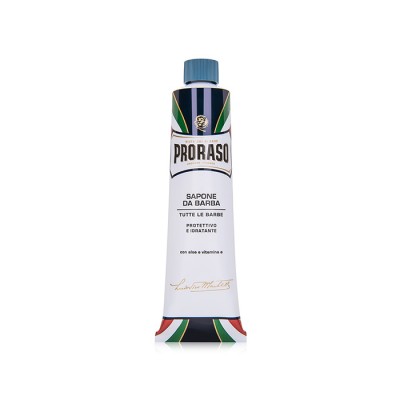 PRORASO SHAVING CREAM PROTECTIVE ALOE
Rp. 240,000
This shaving cream is ideal for a classic moisturizing shave. This hydrating cream helps comfort skin with extra-soothing and softening ingredients including Aloe Vera and Vitamin E, and a warm, modern scent of amber and musk.
Shaving Cream Protective Aloe
Made with a "hot soap process", it's left to mature for 3 days. This produces an extremely fine, thick and creamy soap that, with the aid of a brush, produces a soft and rich lather. It makes for a close and comfortable shave while protecting the skin and leaving it soft and hydrated.
Formula
Its formula with high skin tolerability, thanks to the properties of Aloe vera and Vitamin E, has a highly protective and moisturising effect for maximum skin care.
Direction
Dampen your Proraso brush with hot water. Squeeze about 2cm of soap between the bristles of the brush and massage onto the face using circular movements. In a few moments, the soap turns into a creamy and compact lather that will soften all kinds of beard, making shaving a pleasant daily activity.