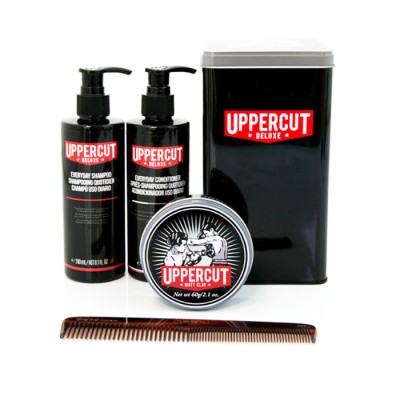 UPPERCUT DELUXE MATT CLAY COMBO KIT
Rp. 800,000
MATT CLAY COMBO KIT - Want a look that is controlled, defined and clean? Look no further – this Combo Gift has you covered.
Matt Clay
Different guys have different styles. Not everyone wants a super groomed and slick style. Some guys want rough, textured, messy looking styles. Some guys want both. But not at the same time. Following from Deluxe Pomade and Featherweight, Matt Clay was a very natural fit to the Uppercut Deluxe family – once again breaking rules and norms across conventional hair products.The founders of Uppercut Deluxe realized quickly that short messy styles had become the new modern classic – old school barbers were losing out to the mainstream that could give those guys what they wanted. Matt Clay became a way of giving something back to the
Weight – 60g / 2.1oz
Product Colour – Grey
Tin Colour – Grey
Fragrance – Peppermint
Hold – Strong & reworkable
Finish – Dry, Matt look
Grip – Strong
Base – Oil/Petroleum
Apply to dry hair that has been washed beforehand with Uppercut Deluxe Everyday Shampoo and Everyday Conditioner. Start by working a small amount of product into dry palms and make sure to spread evenly across both hands. Apply a small amount to the fringe area using fingertips then work from the back of your head forwards making sure to spread product evenly throughout your hair. Shape your hair to the desired look using your fingers or an Uppercut Deluxe comb to give the shape you want for your style.
Everyday Shampoo 240 ml/8.1 FL OZ
Fresh, clean, ready to style hair without any hassle. Uppercut Deluxe Everyday Shampoo is formulated for daily use, and prepares your hair for the best possible styling results. Infused with licorice and menthol it invigorates both your hair and scalp, while the light lather hydrates the hair without leaving it limp.
Use it with the Everyday Conditioner to best prepare your hair for styling.Our signature fragrance is fresh, clean and masculine without being overpowering.
Apply to wet hair and create a lather, Rinse, Repeat if necessary
Follow with Uppercut Deluxe Daily Conditioner
If in eyes rinse under running water
If irritation occurs, discontinue use
Everyday Conditioner 240 ml/8.1 FL OZ
Uppercut Deluxe Everyday Conditioner is a light hydrating product specially formulated to gently moisturise and protect men's hair, without the heavy weight of traditional conditioners that can leave the hair feeling limp. Infused with olive leaf extract to invigorate and soothe men's hair and leave it with a fresh clean feel and scent.
For the best results use it with the Uppercut Deluxe Shampoo range for an optimal routine to best prepare hair for styling.
Apply after washing hair with Uppercut Deluxe Shampoo
Work through damp hair and rinse
If in eyes rinse under running water
If irritation occurs, discontinue use
CT5 Tortoise Shell Comb
The Uppercut Deluxe CT5 Tortoise Shell Comb is an easy to use, pocket-sized comb that performs across a range of different hair lengths and hair types. Two different teeth widths makes styling long or short hair easy. The high gloss traditional look Tortoise Shell is made from a high quality plant cellulose acetate and branded with our 'Grip it & Slick it' tagline. Use the CT5 Tortoise Shell Comb with your favourite Uppercut Deluxe styling products to create a wide range of styles.
Specifications: Plant Cellulose Acetate Tortoise Shell (A non-petroleum based plastic which is safe to use in Babercide solutions) L : 180 mm W : 33 mm Gold foil Logo and 'Grip it & Slick it' print detail
Usage Instructions Use with your favourite Uppercut Deluxe styling product to create your desired style. Chose from large or tight teeth for the desired finished look.