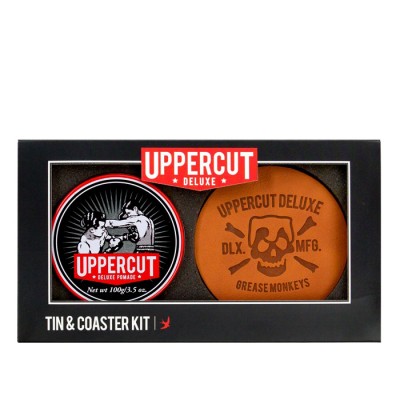 UPPERCUT DELUXE TIN COASTER KIT
Rp. 400,000
Looking for the ultimate stocking filler? Then look no further! Featuring a tin of our signature Uppercut Deluxe Pomade and a set of 4 Limited Edition drinks Coasters, this is the perfect gift for anyone who loves Uppercut Deluxe.
Uppercut Deluxe Pomade has been designed for the discerning kinda guy who has a particular style in mind.
Your favourite styling product now comes with the added bonus of 4 PU coasters to add to your Uppercut Deluxe collection.
Featuring 4 custom graphics from the Uppercut Deluxe design vault these are a limited edition item, made especially for the holiday season, gift away!
With this epic gift, you can now enjoy 4 of the most iconic graphic designs from Uppercut Deluxe when you're sipping on a cold one.
Our coasters are the ideal gift for the man in your life.
Uppercut Deluxe Pomade holds your hair perfectly in place, while giving the definition and shine that so many classic styles need.
Our formulation is water based, meaning it washes out easily leaving no ugly residue. Timeless grooming made easy.
For the best results, apply the Pomade to dry hair that has been washed beforehand with Uppercut Deluxe Shampoo and Conditioner.
Include
Uppercut Deluxe Pomade
4 PU coasters with individual graphics